Free service for our Members and guests
The ExServos provides a free courtesy bus service for our members and guests daily.
Bookings for the courtesy bus are essential, especially during peak holiday periods. Call 4455 1444 to reserve your seat.
Our courtesy service offers a North run covering Ulladulla, Mollymook, Narrawallee and Milton, and a South run covering Burrill Lake, Dolphin Point, Lake Tabourie and Kings Point.
Other nearby areas like Lake Conjola for larger groups on a case by case basis. Please call as early as possible 4455 1444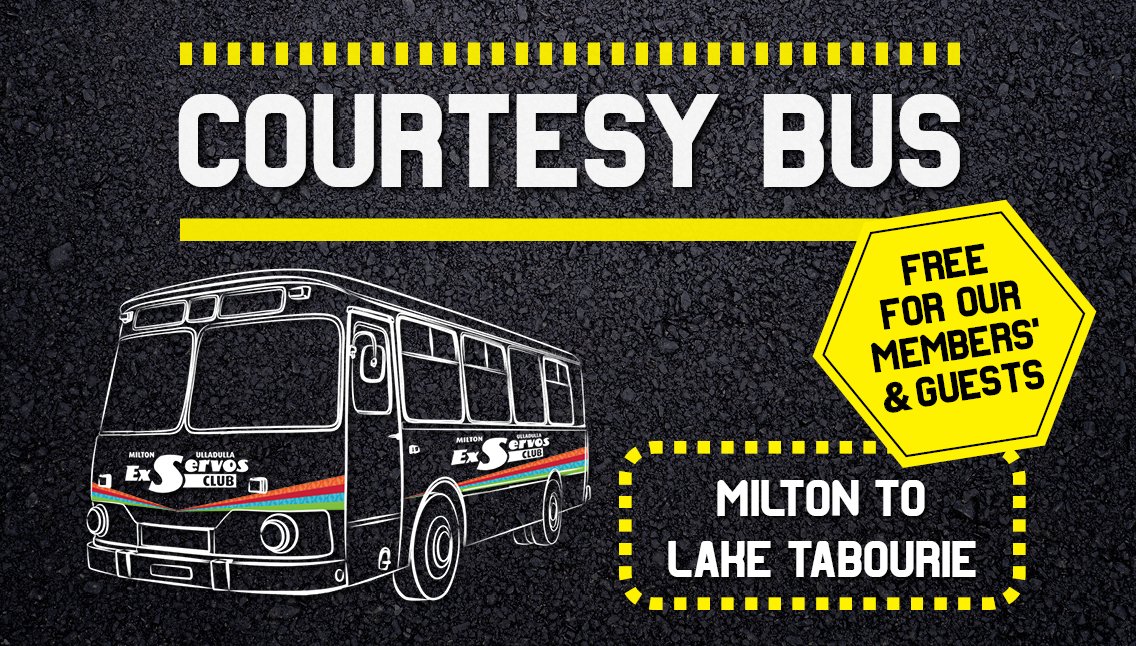 Bus Timetable
Timetable is provided as a guide only and all times are approximate. Additional services may be offered dependent on demand.

Booking Essential via Reception or call 4455 1444
Please note that the times listed below are when the courtesy bus leaves the Milton Ulladulla ExServos Club. Your individual pick up time is dependent upon traffic as well as other pick ups along the route.

North run: Ulladulla, Mollymook, Narrawallee & Milton
South run: Burrill Lake, Dolphin Point, Lake Tabourie & Kings Point
MONDAY & TUESDAY
BY REQUEST - please call 4455 1444

WEDNESDAY & THURSDAY
NORTH: 5.15PM, 6.15PM, 7.15PM, 8.15PM
SOUTH: 5.45PM, 6.45PM, 7.45PM, 8.15PM
FRIDAY AND SATURDAY
NORTH: 4.45PM, 5:45PM, 6.45PM, 7.45PM, 8.45PM, 9.45PM, 10:45PM, 11:45PM
SOUTH: 4.15PM, 5.15PM, 6.15PM, 7.15PM, 8:15PM, 9:15Pm, 10:15PM, 11:15PM, 11:45PM
SUNDAY

NORTH: 5.15PM, 6.15PM, 7.15PM, 8.15PM, 8.45PM
SOUTH: 4.45PM, 5.45PM, 6.45PM, 7.45PM, 8.45PM